This gluten free carrot cake is the BEST gluten free carrot cake I've ever had. In fact, it's just plain good carrot cake, gluten aside. It can also be made dairy free and has no refined sugar! Perfect for a gathering without the guilt of traditional, sugar-loaded carrot cake. Enjoy guilt free.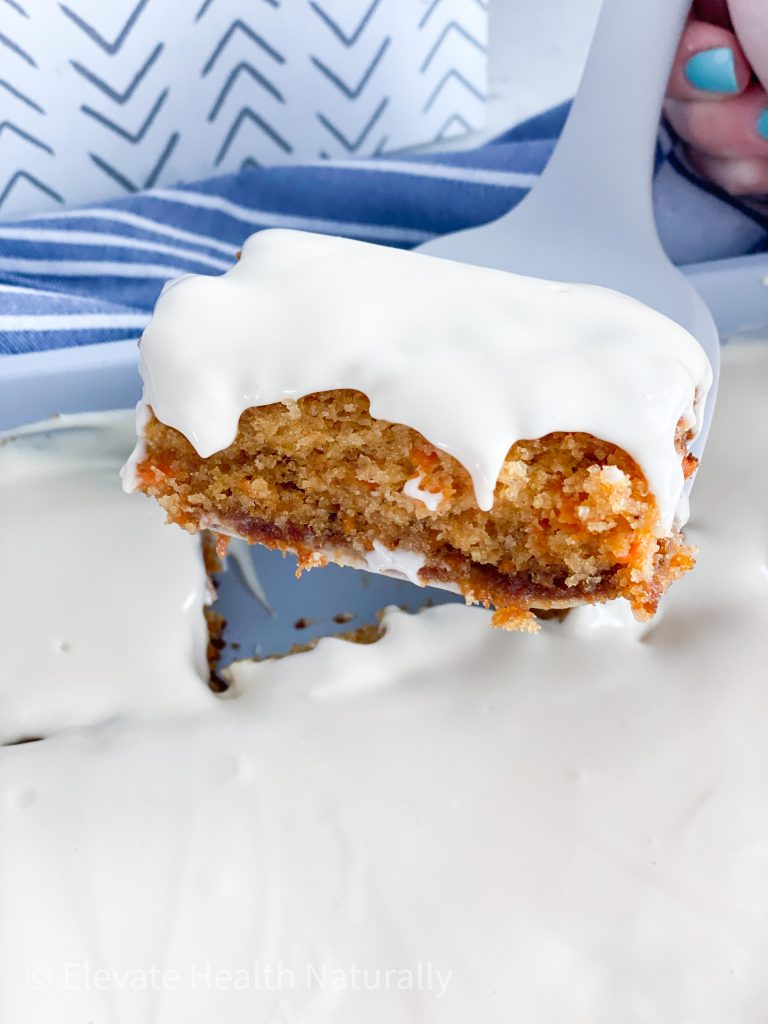 How To Make Carrot Cake
Making carrot cake isn't difficult. Making it gluten-free, refined sugar-free and dairy free isn't hard either. Oh did I mention it is also vegan? Yeah. Not hard. In fact, my 11-year-old made the one pictured here. I've never made it. This is all his recipe! I told you it wasn't hard.
This recipe uses healthier ingredients than traditional carrot cake recipes so you can enjoy without totally derailing your health goals. Bring this to Easter and no one will know you used better-for-you ingredients!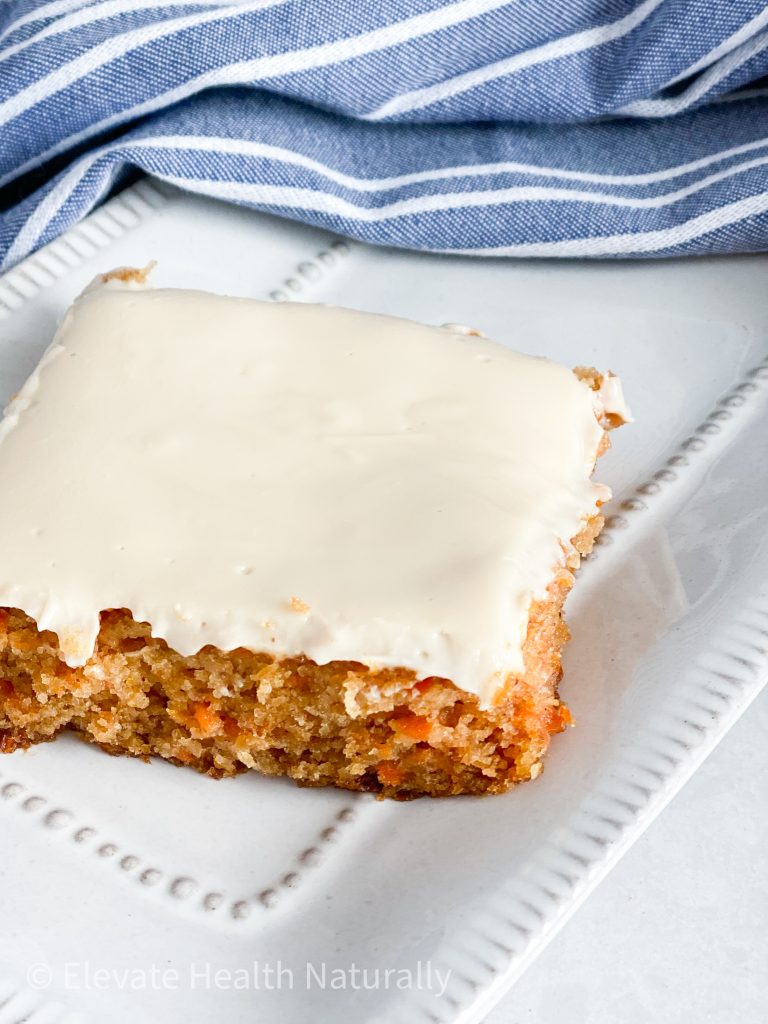 This recipe takes a little while to bake but throwing it all together is easy. You'll want to add in enough time for the cake to cool before you frost it. You can also make it ahead and keep it in the fridge for serving time.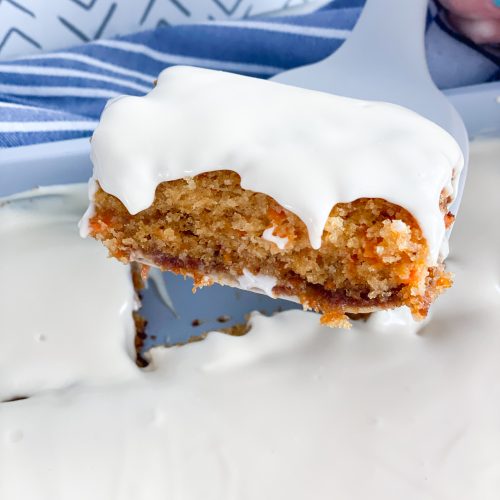 Gluten Free Carrot Cake
This recipe is gluten free, dairy free, vegan and refined sugar free but you'll never even know it because it is DELICIOUS!!
Ingredients
¼

cup

applesauce

¼

cup

avocado oil

2

tbsp.

flax seeds

5

tbsp.

water

¼

cup

non-dairy yogurt

such as coconut yogurt

1

tsp.

vanilla extract

1

cup

almond flour

¾

cup

gluten-free all-purpose flour

Bob's red mill

1

cup

coconut sugar

2

cups

grated carrots

2

tsp.

cinnamon

¼

tsp.

nutmeg

⅛

tsp.

clove powder

1

tsp.

baking soda

1

tsp.

baking powder

Pinch

sea salt
For Frosting:
8

oz

dairy-free cream cheese

Kite Hill almond milk cream cheese

½

cup

maple syrup

1

tsp.

vanilla
Instructions
Preheat the oven to 175ºC/350ºF.

In a mixing bowl, add flaxseeds and water and stir to combine.

Add in applesauce, avocado oil, yogurt, and vanilla extract, and give a quick mix.

Sift in coconut sugar, nutmeg, baking soda, baking powder, salt, clove powder, almond flour, and gluten-free all-purpose flour and beat for 30 seconds until well combined and no lumps of flour remain.

Gently fold the grated carrots into the batter and pour everything into a greased 8 x8 square pan.

Bake for 45-50 minutes until an inserted toothpick comes out clean.

Whisk together the frosting ingredients until smooth and spread across the cooled cake.

Garnish your favorite toppings and enjoy your guilt-free cake. Refrigerate any remaining cake.
I use my non-toxic Caraway square baking pan for making this recipe. There is NO need to grease the pan or line it. The carrot cake doesn't stick and it comes out perfect every time!
If you are still using bakeware with aluminum, Teflon or other toxic ingredients then I urge you to start making the switch to safer cookware. Those materials leach into the food you make and add to the toxin load in your body and that is not a good idea and can have lifelong health consequences.
Cream Cheese Frosting Recipe For Carrot Cake
The recipe above also includes an amazing dairy free cream cheese frosting recipe for carrot cake. In fact, we tested it with regular cream cheese versus the Kite Hill almond milk cream cheese (dairy free) and my entire family preferred the dairy free version!
The maple syrup acts as a natural sweetener and adds some layers to the flavors. It's oh so good!
Does Carrot Cake Need To Be Refrigerated?
Yes, your carrot cake should be stored in the fridge when you are not serving it. This also helps the cream cheese frosting set up nicely. I think it just tastes even better cold! You can pull it out of the fridge to allow it to warm up to room temperature if you don't like it cold, but it should be placed back in the fridge when you are finished. Be sure to cover it so it doesn't dry out.
Is Carrot Cake Healthy?
Carrot cake is definitely not healthy, however, this recipe uses healthier ingredients so it is not as bad for you. It is most certainly a treat and a dessert, but with this healthier recipe, you can enjoy without the guilt (just don't eat the whole pan!).
How Long Is Carrot Cake Good For?
This carrot cake lasts a few days in the fridge. We've never had it hang around for longer than 2-3 days as it usually goes pretty fast around here!
Is Carrot Cake Gluten Free?
Carrot cake is not naturally gluten free, however, this recipe IS gluten free so go ahead and enjoy! We prefer to use the Bob's Red Mill 1:1 Gluten Free Flour for this recipe. It works great!