Grab this free printable seasonal produce guide and produce by color guide. I recommend my clients eat the seasons and this guide will help you do just that! It lists out seasonal produce and produce by color so you can eat the rainbow!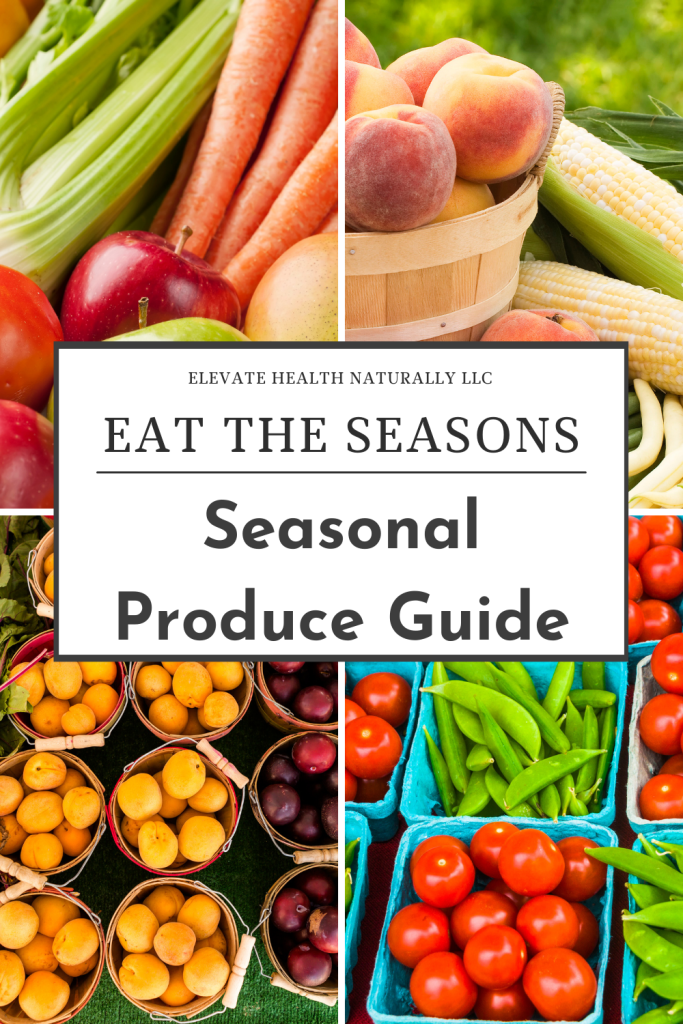 It's so important to eat the seasons or eat seasonally. Giving our body a variety of foods is the best way to avoid developing food sensitivities and to give our body a variety of vitamins and minerals from the food we eat.
Since grocery stores make all sorts of produce available to us year-round, it can be difficult to know which produce is in season. This guide is intended to help you navigate which produce is in season so that you can easily eat seasonally.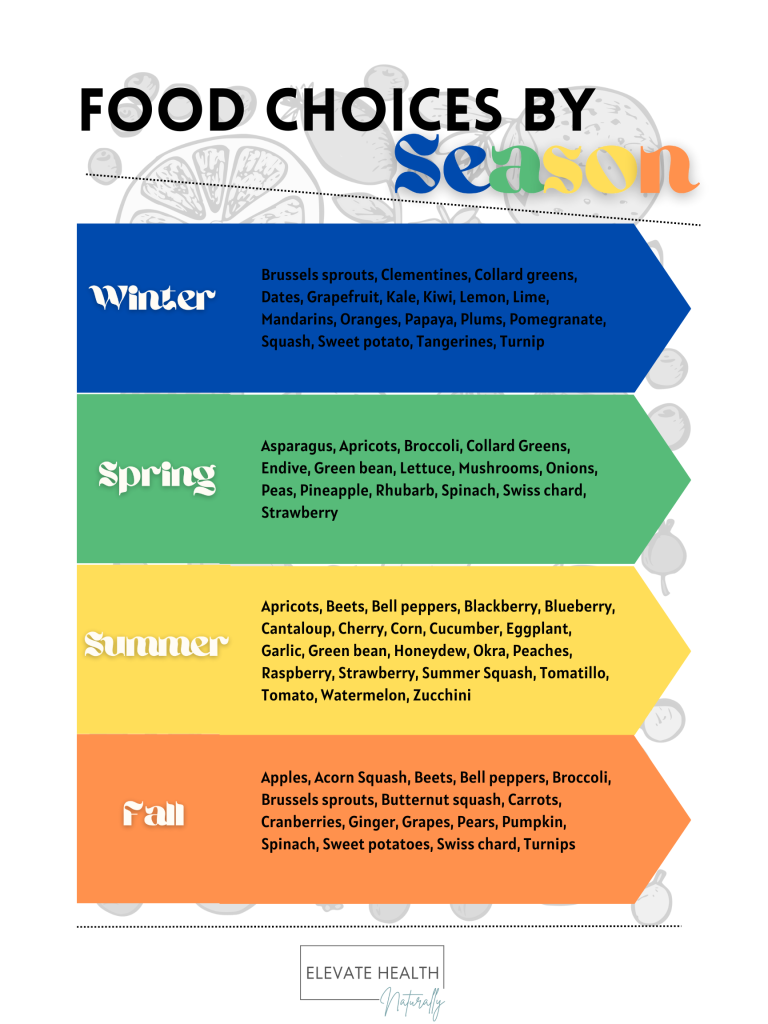 What Produce Is In Season
Eating seasonal foods is a healthier choice. You can eat in season by selecting food that is growing at the same time you're shopping.
Eating fresh, in-season foods exposes you to new fruits and vegetables, expanding your repertoire of nutrients and flavors in your meals. Variety is crucial to a well-rounded diet. Experts agree that variety is important for health because your body needs many different nutrients.
Food starts losing nutrients the minute it's picked. With in-season produce, the reduction in time from farm to table keeps the nutrient levels high. Additionally, foods that have to travel long distances are usually covered in chemicals to help preserve them.
You can save money on your grocery bill every week by taking advantage of seasonal foods.
Experts can't agree on a single answer for why food tastes better in-season. A couple of factors, though, contribute to the good taste:
Being able to wait and pick the food when it's ripe naturally makes it taste better.
Not having to travel a long distance cuts down on the time between when it's harvested to the moment you eat it. So fewer chemicals are needed to preserve it.
We recommend eating as much organic and non-GMO food as possible. Why do we recommend this?
Conventionally grown food is sprayed with pesticides and can also be genetically modified. These practices add to the toxic load in the body which is exactly what we are working on reducing. When you continue to consume foods that are full of toxins, chemicals and GMO's, the body can't start getting rid of the stored toxins.
Focus on buying whole foods and skipping processed foods. Look for the USDA organic label and the non-GMO project butterfly label. This ensures that the products you are buying are free from chemicals and genetic modification.
Four Seasons Produce
When eating seasonally, you can refer to these printable sheets for what is in season. Strive to eat the in-season foods as they are richest in nutrients and always taste better when in-season.
Winter In Season Produce
In the winter the produce that is in season includes the following vegetables:
Brussels sprouts
collard greens
kale
squash
sweet potato
turnip
Winter in season fruits include:
clementines
dates
grapefruit
kiwi
lemons
limes
mandarins
oranges
papaya
plums
pomegranate
tangerines
Spring In Season Produce
Produce that is in-season for spring includes the following vegetables:
asparagus
broccoli
collard greens
endive
green beans
lettuce
mushrooms
onions
peas
spinach
swiss chard
Spring in season fruits include:
apricots
pineapple
rhubarb
strawberry
Summer In Season Produce
In the summer the produce that is in season includes the following vegetables:
beets
bell peppers
corn
cucumber
eggplant
garlic
green beans
okra
summer squash
tomatillo
tomato
zucchini
Summer in season fruits include:
apricots
blackberries
blueberries
cantaloupe
cherries
honeydew melons
peaches
raspberries
strawberries
watermelon
Fall In Season Produce
In the fall the produce that is in season includes the following vegetables:
acorn squash
beets
bell peppers
broccoli
brussels sprouts
butternut squash
carrots
ginger
spinach
pumpkin
sweet potatoes
swiss chard
turnips
Fall in season fruits include:
apples
cranberries
grapes
pears
Eat The Rainbow
Another thing I encourage my health clients to do is to eat the rainbow. By this I mean, eat a variety of colors when selecting produce. By eating a variety, we feed our microbiome with a diverse selection of foods and diversity is great! Don't fall into the trap of eating the same foods over and over again. Switch it up and keep it versatile.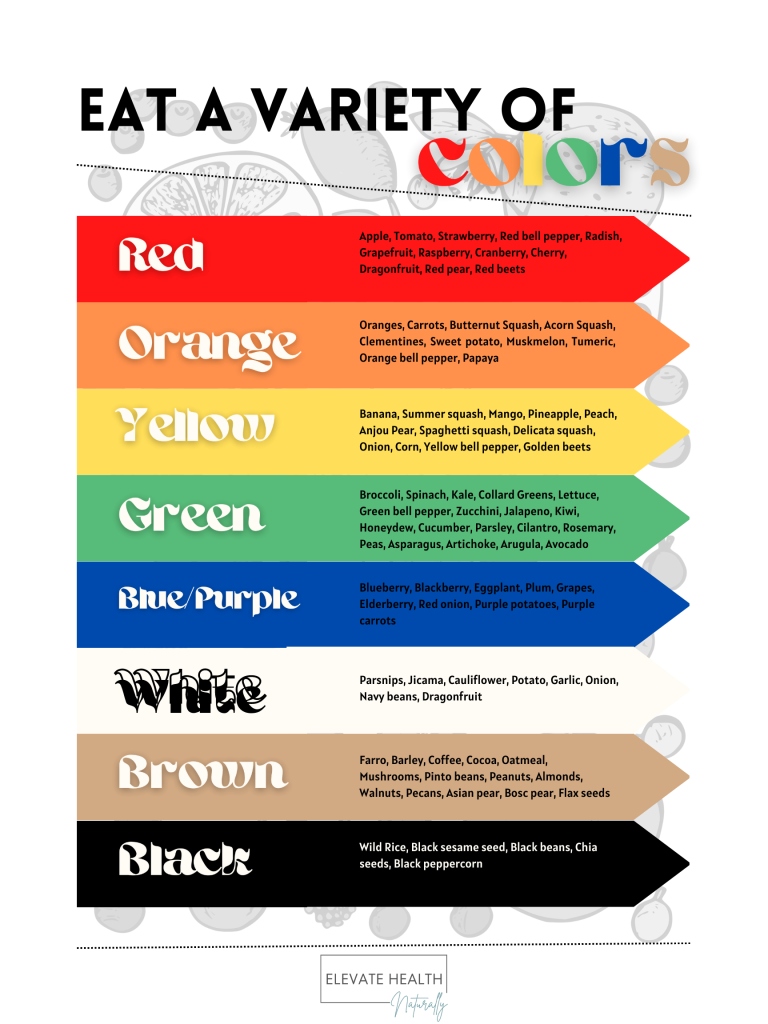 Strive to eat a variety of these foods throughout the day and week. Mix it up! Try something new. Sometimes the easiest way to ensure you are getting good variety in your diet is to just choose a food from each color of the rainbow! Here are some ideas to get you started!!
Red Colored Foods
apple
tomato
strawberry
red bell pepper
radish
grapefruit
raspberry
cranberry
cherry
dragonfruit
red pear
red beets
Orange Colored Foods
oranges
carrots
butternut squash
acorn squash
clementines
sweet potatoes
muskmelon
turmeric
orange bell pepper
papaya
Yellow Colored Foods
banana
summer squash
mango
pineapple
peach
anjou pear
spaghetti squash
delicata squash
onion
corn
yellow bell pepper
golden beets
Green Colored Foods
broccoli
spinach
kale
collard greens
lettuce
green bell pepper
zucchini
jalapeno
kiwi
honeydew
cucumber
parsley
cilantro
rosemary
peas
asparagus
artichoke
arugula
avocado
Blue/Purple Colored Foods
blueberries
blackberries
eggplant
plums
grapes
elderberry
red onion
purple potatoes
purple carrots
White Colored Foods (typically we stay away from white food – these are healthy white foods)
parsnips
jicama
cauliflower
potato
garlic
onions
white sweet potatoes
navy beans
dragonfruit
Brown Colored Foods
farro
barley
coffee (preferably Organo mushroom coffee)
cacao
oatmeal
mushrooms
pinto beans
peanuts
almonds
cashews
walnuts
pecans
asian pear
bosc pear
flax seeds
Black Colored Foods
wild rice
black beans
black sesame seeds
chia seeds
black peppercorns
Enter your name and email below and I will send you the free printable eat the seasons guide and eat the rainbow food by color guide!