Spatchcock chicken is a quick and easy way to cook a whole chicken. This recipe is gluten free, dairy free, whole 30 and paleo. It's a great one pan clean eating recipe!
We buy organic whole chickens from a local farm and our favorite way to cook them is this spatchcock chicken recipe. It is super easy and quick to prep and throw in the oven. It's a large enough meal to feed the whole family and since we make our spatchcock chicken and potatoes on a sheet pan, it's a one pan meal with the sides included. Quick, easy and minimal clean-up!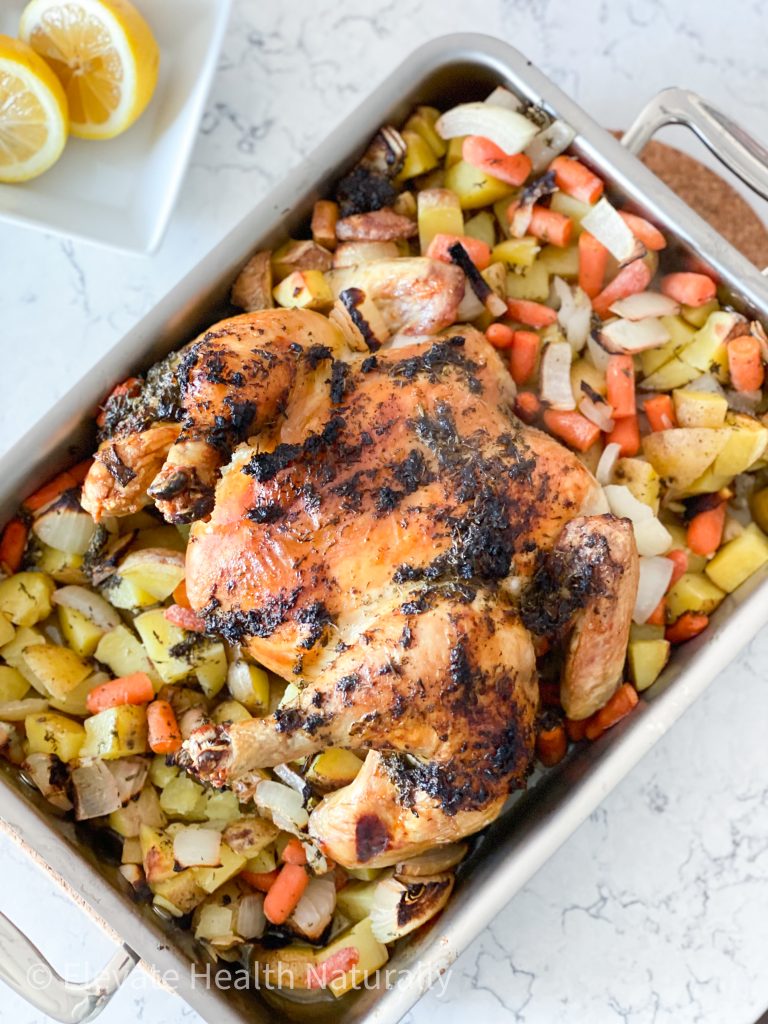 I love easy, sheet pan dinners. They make for minimal clean up since you only use one pan and they cook everything at the same time. This spatchcock chicken recipe has become a regular in our recipe line up. Everyone in the family loves it and it is so easy. What's not to love?
How To Spatchcock Chicken
If you aren't familiar with cooking spatchcock chicken, the name may make it sound fancy or intimidating. I promise you, it's not hard! You essentially are cutting the chicken down the middle to flatten it and then you top it with a spatchcock chicken rub and surround it with potatoes, carrots and onions and pop it in the oven! Super simple. Ready to get started?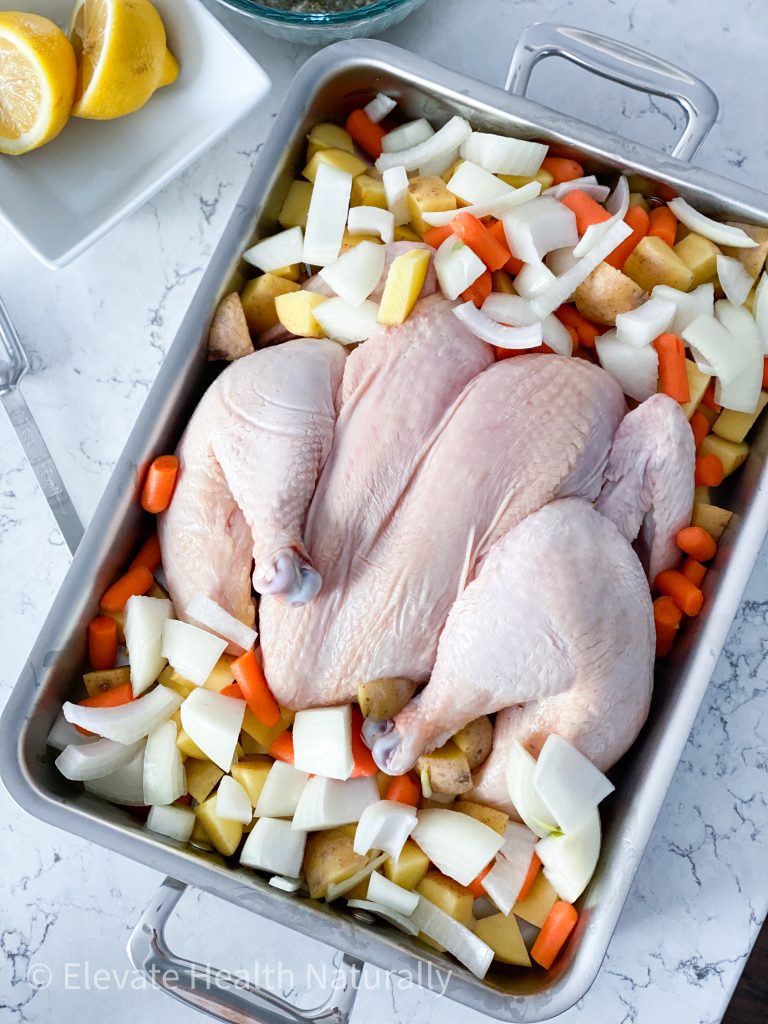 This spatchcock chicken recipe is by far the easiest way to cook a whole chicken in the oven. It's also whole 30, clean eating and paleo. There is no sugar, gluten, soy or pork in this recipe either. We also use ghee so it's free of dairy other than ghee.
What Is Spatchcock Chicken?
Spatchcock chicken is a method where you remove the spine from the chicken so it can be laid flat on the pan. Spatchcocking helps to cook the chicken much faster than cooking it whole. This is what makes it my favorite way to cook a whole chicken!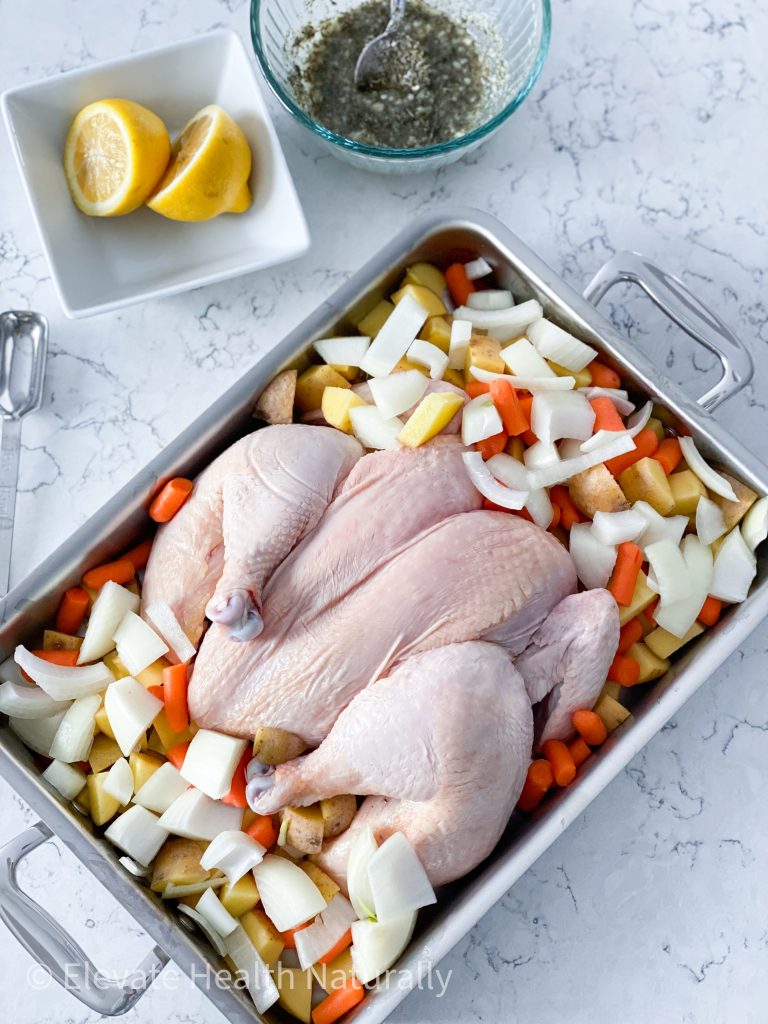 Ingredients To Make Spatchcocked Chicken and Potatoes
Whole chicken – 3.5 – 4.5lb whole, organic chicken – If possible get to know your local farmers for the best-tasting organic chicken! Keep in mind the size of the chicken will alter the cooking time but we also go by the internal temperature so size doesn't really matter here so long as you check the temperature when cooking
Ghee – You want to buy organic, grass-fed ghee for the best quality. For my clients who are dairy free, they can usually tolerate ghee just fine. If you are unable to then use avocado oil instead
Fresh herbs – Fresh is best but if you don't have fresh then dry herbs work just fine! We prefer thyme and parsley but if you like rosemary then add that too!
Lemon – Organic lemons add a pop of flavor and acid to the recipe
Vegetables – We use potatoes, carrots and onions for this recipe but depending on your dietary needs you can swap any of these out for other veggies such as parsnips, sweet potatoes, brussels sprouts or any hearty root veggies
Spatchcock Your Chicken
Now it is time to cut the chicken so it lays flat. This is how to spatchcock chicken. You're simply going to cut the spine from the chicken. Using sharp kitchen scissors you will simply cut down each side of the spine and remove it. You can feel the spine in order to locate it. Then discard it or save it for making bone broth.
Once the spine is removed, find the sternum and cut down the center of it. Now you can lay the chicken flat on a baking pan. I recommend using a baking pan from 360 cookware as I did here. 360 Cookware is stainless steel and is non toxic. Do not use baking sheets made of aluminum or teflon! These leech toxins into your food and end up in the body.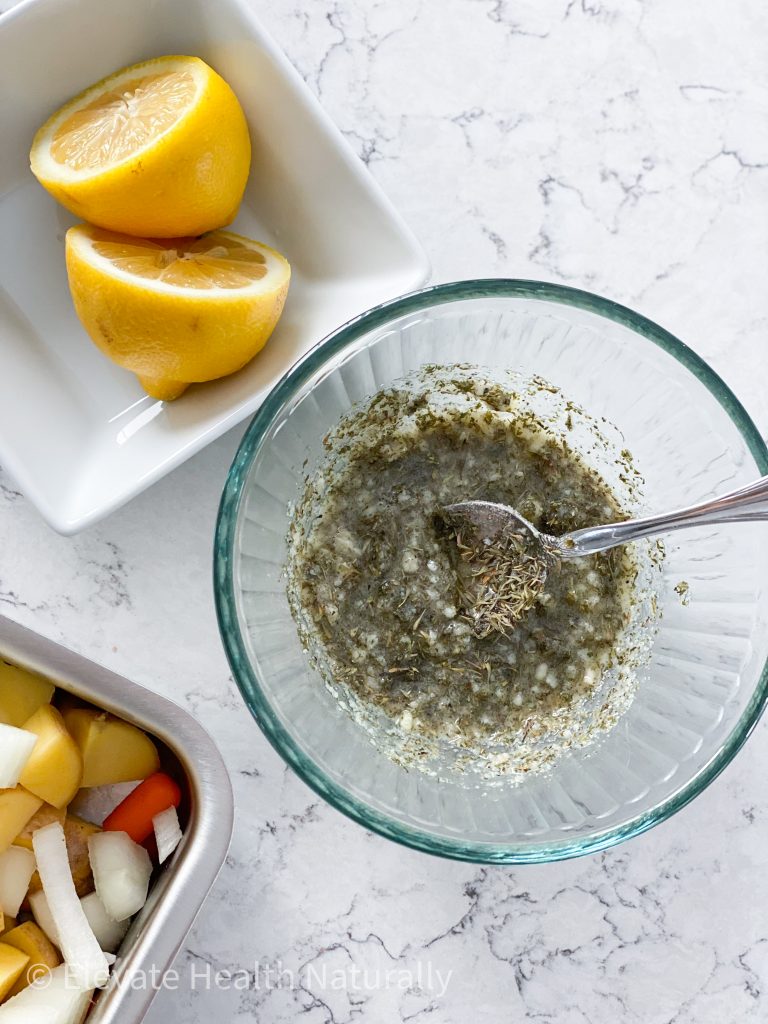 Spatchcock Chicken Rub
Now it is time to make the delicious ghee rub that will go on our spatchcock chicken! It helps the chicken to brown nicely and makes it taste amazing!
In a small bowl you'll combine the ghee (you can use grass-fed butter instead) with the herbs, salt, pepper, garlic and lemon. Mix it all together and rub it over the chicken skin. Reserve about half of it for the veggies!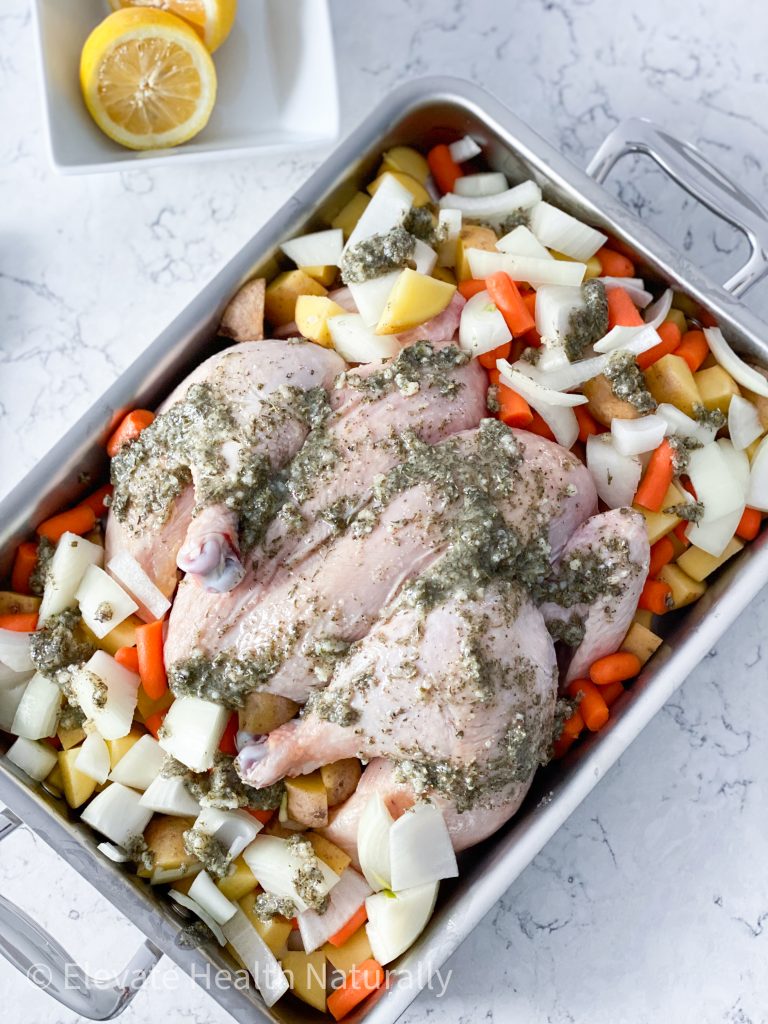 Spatchcock Chicken and Potatoes
Now to make this spatchcock chicken a complete meal! We can add our favorite root veggies to the mix. I like to use onions, carrots and potatoes but you can use parsnips, sweet potatoes, brussels sprouts, or any other hearty vegetable.
Dice the vegetables and arrange them around the chicken on the baking pan. Cover with the remaining spatchcock chicken rub.
Spatchcock Chicken
My favorite way to cook whole chickens! Quick and easy one pan meal with potatoes and carrots. Easy clean up too!
Ingredients
1

whole chicken

3.5–4.5 lbs

3

tbsp

ghee

you may sub avocado oil/coconut oil

1

tbsp

avocado oil

1

tbsp

lemon juice

2

cloves

garlic

minced

1

tsp

sea salt

1/4

tsp

black pepper

2

tsp

fresh thyme leaves

1 1/2

cups

carrots

chopped

1 1/2

cup

potatoes

chopped

1

yellow onion

roughly chopped

1

tbsp

fresh parsley

chopped
Instructions
Preheat the oven to 425 F.

Lay the chicken breast side down. Using sharp kitchen scissors, cut up along the spine on both sides, removing the spine from the back of the chicken. Either discard the spine or save for making bone broth.

While the chicken is still breast-side down, find the sternum bone opposite of the breast. Use a butcher knife to cut through the bone. This allows the chicken to lay flat.

Prep the herbed ghee (or oil) by combining the ghee or oil with the herbs, salt, pepper, garlic, and lemon juice.

Flip the chicken (breast side up) onto the baking sheet. Tuck the wings under the chicken to avoid burning the tips of the wings.

Spread half of the ghee rub over the chicken skin. Save the other half for the vegetables.

Add the vegetables to the baking dish, surrounding the chicken. Top with the remainder of herbed ghee.

Bake for 40-45 minutes (time will vary depending on the weight of the chicken). The internal temperature in the thickest part of the breast should read 165 F.

Remove from the oven and allow to rest for 10-15 minutes before topping with parsley and carving the chicken.